The Ripon Forum
Volume 43, No. 4
Fall 2009 Issue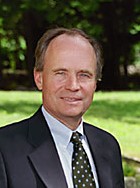 Leading up to the 2008 general election, the conventional wisdom in America was that the Republican Party was dying in the American Northeast.
After the results came in, and the GOP was left without a single seat in New England, the conventional wisdom was no longer that the party was just dying in that part of the country. Most people thought that the party was dead.
And yet if we are going to become the majority party again in this country, we must rise like Lazarus in the Northeast. Of course, recognizing that we need to spark a Republican resurgence in this region is a far easier feat then figuring out exactly how to rebuild a party whose image has been devastated among New England voters.
…if we are going to become the majority party again in this country, we must rise like Lazarus in the Northeast.
The good news is that I do not believe that the seismic shift in favor of Democrats over the last few cycles in the Northeast is a permanent one. The better news is that the core message of the Republican Party – a message that attracted voters across the region for decades – can still resonate today. So how do we do it?
First, we as a party need to recognize that one-size-does-not-fit-all when it comes to campaigns. It shouldn't be an earth-shattering revelation, but the fact of the matter is that the type of candidate and campaign that can win in Alabama is not going to be the same type of candidate or campaign needed to win in New Hampshire. Voters in the Northeast respect political independence and expect their elected officials to focus on finding solutions to the challenges facing the region and our country, not just on red meat rhetoric. We as a party must be politically pragmatic enough to recognize this fact and run campaigns that reflect it.
Second, we need to emphasize those policies and positions that unite all Republicans – rather than focus on issues that divide us. It was Ronald Reagan who pointed out that someone who agrees with you on 80 percent of the issues is a friend, not an enemy. Unfortunately, instead of emphasizing those issues that unite us, the Republican Party of today has spent far too much time focused on divisive social issues. Worse, elements of the party have not only pushed for our party to focus on these divisive issues, they have pushed for a party where only those who agree with each other on 100 percent of issues are pure enough to be a part of our party today. The party that cannot embrace the voter who agrees with them 80 percent as a friend and an ally, is a party doomed for the permanent minority.
Third, we need candidates who reflect the values of the people of their district and their state. Our party needs to recruit and promote candidates who understand their electorate and who will reflect their values – and then support them as vigorously as they would others with whom they might be closer to philosophically. Some issues are universal, while others are distinctly regional. While fighting for lower taxes may be universal, issues like health care reform, energy and the environment, job creation and countless other issues effect different parts of the country differently. We need candidates who not only understand those differences, but who understand that the first obligation of public service is to represent those who you have been elected to serve – not to the national party or the talk radio crowd. We need candidates who are courageous enough to be decisively and proudly Republican when in agreement with our Party's leadership on an issue, but courageous enough to be decisively independent when in disagreement.
Finally, we need to make a serious investment in recruiting good candidates, supporting their campaigns, and building vibrant state and local parties. Our party's national leadership needs to understand the importance of a Republican resurgence in New England and invest accordingly. Important in this investment is the recognition that the party wasn't decimated overnight, and its revitalization will not occur overnight either. Investing in state and local parties, as well as candidates up and down the ballot, will reap some immediate results, but more importantly, such investments could pay impressive dividends in the future.
…the fact of the matter is that the type of candidate and campaign that can win in Alabama is not going to be the same type of candidate or campaign needed to win in New Hampshire.
A generation ago, New England was the base of the Republican Party. In Franklin Roosevelt's Democratic landslide victory of 1944, only two states – Maine and Vermont – cast their electoral votes for the Republican nominee for President. Neither of those two states has voted for a Republican for President since George H.W. Bush's run in 1988. In the late 1940s, Republicans were elected to represent 21 of 28 House seats. After Chris Shays' loss in Connecticut in 2008, not a single Republican represents a New England House district in Congress.
I am not suggesting that New England or the Northeast in general will be the regional base for the GOP in the future. Indeed, much has changed in the region in the last generation. I am suggesting, however, that the Republican Party can compete and win in New England, because while much has changed in the region, much remains the same.
The electorate in the Northeast still values political independence, still treasures individual liberty, still expects government to live within its means, and still respects tradition – which, when you think about it, are not only values most Republicans also respect, but ones the party should stand behind today.
–###–
Charles F. Bass represented the 2nd District of New Hampshire in the U.S. House of Representatives from 1995 to 2007. A Board member and former President of the Republican Main Street Partnership, he recently announced the formation of an exploratory campaign committee to possibly run for his old seat.
---
Party Affiliation, Members of the U.S. House of Representatives from New England, 1980 – 2008
| | | | |
| --- | --- | --- | --- |
| | Republican | Democrat | Independent |
| 1980 | 9 | 16 | 0 |
| 1982 | 7 | 17 | 0 |
| 1984 | 10 | 14 | 0 |
| 1986 | 9 | 15 | 0 |
| 1988 | 10 | 14 | 0 |
| 1990 | 7 | 16 | 1 |
| 1992 | 9 | 13 | 1 |
| 1994 | 8 | 14 | 1 |
| 1996 | 4 | 18 | 1 |
| 1998 | 4 | 18 | 1 |
| 2000 | 4 | 18 | 1 |
| 2002 | 5 | 16 | 1 |
| 2004 | 5 | 16 | 1 |
| 2006 | 1 | 21 | 0 |
| 2008 | 0 | 22 | 0 |