The Ripon Forum
Volume 43, No. 4
Fall 2009 Issue
The example being set in one small state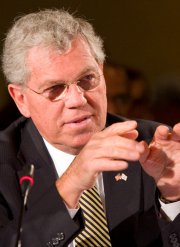 I have been Governor of the State of Rhode Island and Providence Plantations for just over six and a half years. We are a small state, with a population of just over one million, but during these difficult economic times our fiscal challenges rival those of much larger states.
For over 70 years, one party has dominated the Rhode Island General Assembly. Under Democrat control, social service programs – primarily Medicaid – were consistently expanded, while at the same time eligibility criteria for these benefits were significantly lowered. As a result, Rhode Island experienced a steady rise in program participants while the General Assembly raised taxes to fund these overly-generous programs and the staffing to support them.
At its peak and prior to my administration, there were over twenty thousand state employees serving less than a million people in a state thirty miles wide by forty miles long. Once you add all of the municipal workers and teachers, government becomes the largest employer in the State of Rhode Island. The Democrat-dominated legislature has been a friend to public employee unions. The balance between those depending upon government and those supporting government was beyond the tipping point.
…when the times get difficult, like now, you have but two choices – throttle back on the spending or raise taxes.
No one questions the need for social service programs; the issue is more of where you set the bar, how efficient you can be, and how much the taxpayers can afford. When times are good, government programs glide along on auto-pilot. But when the times get difficult, like now, you have but two choices – throttle back on the spending or raise taxes. Rhode Island doesn't need higher taxes, it needs more taxpayers. It needs an expanding economy, not an expanding government.
How large should government be? The simple answer is that government should be the size the taxpayers want and can afford to maintain. Rhode Island's problem was that government grew at a rate far outpacing the taxpayers' ability to support it. The result: taxes continued to increase, and both individuals and businesses no longer found our state to be an affordable place to live, work or grow a business.
I understood this when I first ran for Governor. In the first years of my administration, we were able to establish tight budget controls and streamline many state government processes. Through my Fiscal Fitness Program, we revamped state purchasing, tightened revenue collection, consolidated "back-office" functions among the departments, and encouraged government transparency. In the first two years we saved hundreds of millions of taxpayer dollars.
It's my belief that most taxpayers want a government that is more efficient, less expensive, and easier to engage. However, there is strong resistance to these sorts of money-saving practices primarily from those who benefit from the status quo. Even common sense process-improvements that are based both on sound management practices and social responsibility can be difficult to achieve.
Today, the fiscal challenges in Rhode Island, as in nearly every other state, have grown exponentially. These challenges demand a profound and immediate transformation of how we fund and manage government. Forecasts of future budget years do not signal relief, only a worsening financial situation. There is no time to waste.
My administration has been focusing on the three major areas of state spending: Personnel Costs, Social Services, and Local Aid to Municipalities. Each of these areas possesses its own set of cost drivers, as well as legal and political considerations.
In the personnel area, a large percentage of the state and local government workforce in Rhode Island belongs to unions. On the state level, with each new labor agreement, personnel costs have been reduced, particularly through new health insurance agreements and increasing workers' shares of health insurance costs. Major changes have also been made in state employee pensions and retiree health insurance benefits by gradually raising retirement ages, minimum years of service, as well as requiring retirees to pay a fair share of their retiree health insurance costs.
Recently, our state employees agreed to a pay reduction plan that will save taxpayers nearly $40 million over the next two fiscal years. In addition to the pay reductions, the plan also defers a formerly agreed upon pay increase for an additional six months. By agreeing to these concessions, our public employees at the state level are working cooperatively to solve our fiscal problems. Further, we are currently operating state government with 12,800 people, the lowest level in recent memory.
Rhode Island doesn't need higher taxes, it needs more taxpayers. It needs an expanding economy, not an expanding government.
The second area of spending is for Social Services, particularly Medicaid, which has ballooned to more than one-third of the state budget. In response, my administration proposed a first-in-the-country initiative to contain Medicaid costs using a comprehensive waiver from federal rules to design a consumer-driven, community-based service system. Our Choices program will provide consumers a greater range of options, and better care at a much more affordable cost to the taxpayers. The nation will learn a great deal from Rhode Island as our Choices program holds great promise for those in need and those who pay the bills. The goal is to provide more appropriate, better care at lower cost. Reducing the heavy reliance on long-term nursing home care, and shifting to more at-home support for seniors is key.
Beyond Medicaid, we have also had encouraging results in both improving social service outcomes and in controlling related costs. For instance, we have made changes to our TANF programs to link up the efforts of our Department of Human Services with Workforce Development initiatives. It's about getting people off of public assistance, getting them the job skills training they need and placing them back into the workforce more quickly. Our Work-First approach is allowing Rhode Islanders to become independent faster.
Having achieved successes in reining in personnel and social service costs, now my administration is focusing on the third major area of state expenditures – Local Aid to Municipalities. Last year, I proposed reducing state aid to cities and towns in my supplemental budget, but also included needed relief from unfunded state mandates. Additionally, I recommended an array of management tools that would help our municipalities better manage their budgets though these challenging financial times.
I also proposed a BRAC-like commission to focus on consolidation and regionalization of services at the municipal level. Unfortunately, the General Assembly failed to act on this comprehensive plan to provide more options and flexibility to our cities and towns.
How do we deliver education, public safety, infrastructure and other government services more affordably? Many of the actions we have taken on the state level will have to be echoed in local government efforts to reduce spending. Again, public employee unions will play a large role in crafting future government operations along with municipal officials. The new fiscal world we live in sets boundaries everyone will be forced to accept.
In late August, we formed a Fiscal Stress Task Force to ascertain the financial vulnerability of our 39 cities and towns. Coincidentally, it was announced that several of our cities and towns were coming together to discuss regionalizing police, fire and public works services. I was pleased to see that we are gaining traction, and perhaps the political will, to finally take a serious look at re-establishing the frameworks for smaller, effective and efficient government.
Legislators and policy makers may create programs and increase government obligations out of good will or a desire to expand their power by making more people obligated to the government, but, in the end, reality will win out and the state will run out of money, projects will be abandoned and promises broken. No state can afford to let that happen. In Rhode Island's case, with a lower than average revenue capacity in relation to the rest of the country and a higher than average revenue effort (i.e. we are already taxing people too much), government has overreached.
They say necessity is the mother of invention, and so perhaps, with states dealing with severe fiscal constraints, the opportune time has come to re-shape our state and local governments. After first grounding themselves in new fiscal realities, elected officials can then raise questions of priority, urgency, and whether or not government ought to be doing what is proposed. Better government does not mean bigger government. Active government does not imply spendthrift government. Government schooled by fiscal reality will yield a practical wisdom that makes prudent choices in the how and why of government growth and spending.
–###–
Donald Carcieri is Governor of the State of Rhode Island and the Providence Plantations.