The Ripon Forum
Volume 45, No. 1
Winter 2011 Issue
Two former House Members offer practical advice on what they expected from their top legislative aides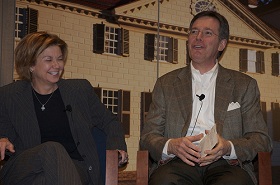 MOUNT VERNON, VA — The Ripon Society's 2011 Legislative Directors Symposium on Leadership closed out the day with a panel presentation geared around practical career advice for LDs.
The presentation, which was titled "Get Me My Legislative Director!", featured former New York Representatives (and husband and wife) Bill Paxon and Susan Molinari, who discussed not only what they expected of their LDs when they served in Congress, but offered up some practical career advice as well.
"As a Legislative Director," Molinari stated, "you would not believe how much a Member of Congress counts on you to keep them out of trouble. So when there's a vote coming up on the floor and they're not exactly sure how they are supposed to vote on it, what the reflection is in the District, what the press is going to say about it, they're going to need your advice in about 30 seconds.
"That piece of advice is very important. Tell the Member exactly how you think that this piece of legislation that they are going to vote on — or decide to co-sponsor, or write themselves — is going to have an impact on their career. And I think what you need to do as LDs in particular is put it in the context of, 'My boss is now debating his or her opponent three days before an election, and this comes up. Do I have the answer for why we took this position and how it benefits them?'
"As a Legislative Director, you would not believe how much a Member of Congress counts on you to keep them
out of trouble."
"If you can't answer that question, then you have to go back. Because you will never know how many times we have been in debates when all of a sudden what we thought was sort of an insignificant vote … gets pulled out. Knowledge is key, and you are the gatekeeper for your member for that. So number one — do no harm.
"Number two — always keep an eye on the District for your Member. There are going to be times when your District is going to dictate something different — perhaps from the Republican Party, or from other people, or, for example, from upstate versus downstate New York. Always make sure that in whatever you are doing with the Member, that you have a really good feel for what the men and women in the District … are going to tolerate or will not tolerate. That means that you have to make sure that you read the local papers, that you read the local blogs, that you are just as ensconced in that Member's District as that Member is."
"And third — understand the Member's interests. I always had legislative directors who really took to what I wanted to work on. So even if it wasn't germane to my District, obviously the first thing you do is look to help your District, your state, your city. But then if there were issues outside of that that you wanted to work on, help your Member do that so that there is a greater fulfillment there, and a greater opportunity for that Member to advance in a specific cause."
In his remarks to the group, Paxon not only shared his insights on what he expected from his Legislative Directors while he was in office, but also provided some practical career advice – namely, that LDs should have an "exit strategy" and be actively planning for the time when they leave their jobs on Capitol Hill.
"Network is not about a TV show," Paxon told the group. "It's what you need to do. If your entire relationships are within your office or a few people on a committee staff, you are not doing yourself justice. You need to network every day in this town — that's number one.
"If your entire relationships are within your office or a few people on a committee staff, you are not doing yourself justice. You need to network every day in this town…"
"Number two — find a niche to market. In addition to all of the other things you do, find an area that your Member might be interested in or that you might be interested in and dig deep, so that when you get ready to leave — particularly if you are going to stay in town, or even go back home and find a new opportunity — that you have a specific area that you are particularly well-versed in."
Paxon concluded his remarks with this admonition:
"You do not want your last name to be your Member's name. You need to have a singular identity, so that when the day comes when you need to leave, or you want to leave, or you have to leave, your last name isn't "Paxon" or the name of your Member. You have an identity.
"And you can add value to that all the time — whether it's through additional education or volunteer experiences or other activities. So you build out that biography.
"As important as that Member is, when they are gone, believe me, they are gone."RF