The Ripon Forum
Volume 53, No. 2
April 2019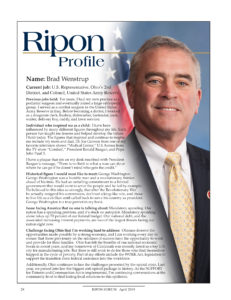 Name: Brad Wenstrup
Current Job: U.S. Representative, Ohio's 2nd District, and Colonel, United States Army Reserve
Past positions held: For years, I had my own practice as a podiatric surgeon and eventually joined a large orthopedic group. I served as a combat surgeon in the United States Army Reserve in Iraq. Before becoming a doctor, I worked as a drugstore clerk, busboy, dishwasher, bartender, cook, waiter, delivery boy, caddy, and lawn servicer.
Individual who inspired me as a child: I have been influenced by many different figures throughout my life. Each person has taught me lessons and helped develop the values I hold today. The figures that inspired and continue to inspire me include my mom and dad, Dr. Joe Gannon from one of my favorite television shows "Medical Center," U.S. heroes from the TV show "Combat!," President Ronald Reagan, and Pope John Paul II.
I have a plaque that sits on my desk inscribed with President Reagan's message, "There is no limit to what a man can do or where he can go if he doesn't mind who gets the credit."
Historical figure I would most like to meet: George Washington. George Washington was a humble man and a revolutionary thinker ahead of his time. He had an unfailing commitment to a limited government that would exist to serve the people and he led by example. He believed in this idea so strongly, that after the Revolutionary War he actually resigned his commission, declined a king-like role, and chose to live life as a civilian until called back to serve his country as president. George Washington is a true patriot in my book.
Issue facing America that no one is talking about: Mandatory spending. Our nation has a spending problem, and it's stuck on autopilot. Mandatory spending alone takes up 70 percent of our federal budget. Our national debt, and the associated increasing interest payments, are two of the largest threats facing our nation right now.
Challenge facing Ohio that I'm working hard to address: Ohioans deserve the opportunities made possible by a strong economy, and I am working every day to ensure that those previously on the sidelines of success have the opportunity to work and provide for their families. Ohio has felt the benefits of our national economic boom in recent years, and my hometown of Cincinnati was recently listed as a top U.S. city for manufacturing jobs. But there is still work to do for those who find themselves trapped in the cycle of poverty. Part of my efforts include the WORK Act, legislation to support the transition from federal assistance into the workforce.
Additionally, Ohio continues to face the challenges presented by the opioid crisis. Last year, we passed into law the biggest anti-opioid package in history. As the SUPPORT for Patients and Communities Act is implemented, I'm continuing conversations at the community level to find lasting local solutions to this epidemic.
What the GOP must do to reclaim its majority in the U.S. House:We must communicate how our policies help Americans in their everyday life. Republicans have consistently focused on increasing opportunity, strengthening our economy, and ensuring our nation is secure. We see the benefits of tax reform for American families through job creation and economic growth. The majority of Americans believe our economy is 'excellent' and unemployment has hit an almost 50-year low. We've also heard the outcry from Americans to secure our borders and keep our families safe from potential threats. Republicans have a track record of delivering policies that create prosperity and security for all, which we must continue to promote. With prosperity, we can solve so many societal concerns.