The Ripon Forum
Volume 40, No. 3
June - July 2006 Issue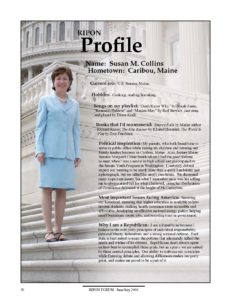 Name: Susan M. Collins
Hometown: Caribou, Maine
Current job: U.S. Senator, Maine.
Hobbies: Cooking, reading, kayaking.
Songs on my playlist: "Don't Know Why," by Norah Jones; "Reason to Believe" and "Maggie May," by Rod Stewart; jazz sung and played by Diana Krall.
Books that I'd recommend: Empire Falls by Maine author Richard Russo; The Kite Runner by Khaled Hosseini; The World Is Flat by Tom Friedman.
Political inspiration: My parents, who both found time to serve in public office while raising six children and running our family lumber business in Caribou, Maine. Also, former Maine Senator Margaret Chase Smith whom I had the good fortune to meet when I was a senior in high school and participated in the Senate Youth Program in Washington. I certainly did not expect our meeting to be much more than a quick handshake and a photograph, but we talked for nearly two hours. We discussed many important issues, but what I remember most was her telling me to always stand tall for what I believed, citing her Declaration of Conscience delivered at the height of McCarthyism.
Most important issues facing America: Securing our homeland, ensuring that higher education is available to low- income students, making health insurance more accessible and affordable, developing an effective national energy policy, helping small businesses create jobs, and restoring trust in government.
Why I am a Republican: I am a Republican because I believe in the core party principles of individual responsibility, personal liberty, federalism, and a strong national defense. Each state is best suited to enact the policies that adequately reflect the needs and wishes of its citizens. Republicans don't always agree on how best to accomplish these goals, but as a party we are united by these central principles. Our ability to embrace our principles while fostering debate and allowing differences makes our party great, and makes me proud to be a part of it.