The Ripon Forum
Volume 41, No. 4
Aug - Sept 2007 Issue
Free Trade Agreements are key to future growth
by CARLOS M. GUTIERREZ
"The freer the flow of world trade, the stronger the tides of human progress and peace among nations." President Ronald Reagan's words in 1986 embody America's philosophy of open markets and free trade. The United States has greatly benefited from President Reagan's internationalist outlook. Our ideal of an economy driven by open markets and low taxes has made America the most competitive large economy in the world.
Ronald Reagan's passion for economic freedom extended throughout our neighborhood. He proposed a Free Trade Agreement (FTA) with Mexico as early as 1980, and in his 1988 State of the Union Address said, "Our goal must be a day when the free flow of trade, from the tip of Tierra del Fuego to the Arctic Circle, unites the people of the Western in a bond of mutually beneficial exchange."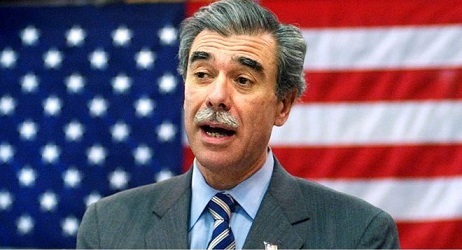 Today, we can extend economic freedom, boost U.S. exports, cut taxes and strengthen key allies through agreements with Peru, Colombia, Panama and South Korea that are pending before Congress.
The Bush Administration has embraced Reagan's vision, recognizing the economic and social benefits of trade, and has implemented FTAs with 11 countries since 2001. Six of those agreements are in Latin America, acknowledging the great importance of extending economic openness and prosperity to our own hemisphere.
Not including the U.S. economy, we already have FTAs that cover two-thirds of the hemisphere's gross domestic product, and more than fourfifths of our trade within the hemisphere is with FTA partners. But there is always more to be done. Today, we can extend economic freedom, boost U.S. exports, cut taxes and strengthen key allies through agreements with Peru, Colombia, Panama and South Korea that are pending before Congress.
FTAs contribute to developing sustainable, balanced trading relationships. Consider this: while 7.5 percent of world GDP is generated from countries with which we have FTAs, more than 42 percent of our exports go to these same FTA countries. And last year we had record exports of $1.4 trillion. Clearly, FTAs are directly linked to the expansion of our exports.
Our commitment to this hemisphere goes beyond commercial relations and encompasses social justice and the promotion of democracy and the rule of law. FTAs help create the broad-based growth that sustains the impact of these efforts.
Consider Colombia, one of the countries with an FTA pending before Congress. Colombia has paid a high price for its fight against terrorists and radicals, with tens of thousands dead and millions more who have lived in fear for decades.
Today, Colombia's democratically elected president is our staunchest ally in the region, and has stood with us in the global war on terror. Standing up to guerilla movements and narcotics traffickers has helped create stability and peace in a land that has had far too little of both. An FTA would encourage the reforms that are now underway.
We must remember our democratic ideal of individual liberty and freedom is not the only system being promoted. Though the battle against the repression of communism resulted in the fall of the Berlin Wall nearly 20 years ago, others today still seek to rebuild walls of economic and social repression. While we seek the empowerment of the individual, there are others who seek to suppress people, ideas and debate. While we encourage the free flow of investment and business, others seek to stifle free enterprise.
There are similar challenges halfway around the globe. South Korea's neighbor to the north continues to seek the economic and political destabilization of the region. Korea and the United States have been steadfast allies in the fight against communism for nearly 60 years, and Korea has also joined with us in the liberation of Iraq. We have also been strong economic partners. Korea is our seventh largest trading partner, with two-way trade already totaling $78 billion. Through the FTA, Korea would remove virtually all of its developing economy protections. The agreement also presents an opportunity to diversify our engagement in Asia, by modernizing our alliance with a country willing to compete on a level playing field.
And, it is important to note that when the United States canvassed the globe for support against Saddam Hussein, Colombia and South Korea were two of the many countries who stepped up to the plate, joining the "Coalition of the Willing," to liberate Iraq. We must remember our friends and allies.
FTAs help create the broad-based growth that sustains the impact of these efforts.
Simply put, FTAs help level the playing field by knocking down tariffs and barriers that impede trade and competition. Eliminating the taxes our exporters face helps them sell American goods and services to millions of consumers in new global markets, supports higher paying jobs for American workers, and boosts productivity, which drives national prosperity.
While we continue to promote open markets, we must not tie the hands of our President, who needs Trade Promotion Authority to participate in multilateral trade negotiations. Other nations won't stop finding ways to enhance their competitiveness, and neither should we.
Increased global engagement supports the Administration's objectives of ensuring our security, enhancing our competitiveness and strengthening our economy. This is not a time to retreat or pull back from Ronald Reagan's vision. We cannot return to an age of protectionism and isolationism, which hampered the free flow of global trade. We are at our best when we are leading, open and engaged. Under our watch, we must not turn back the clock.   RF
___________________________________
Carlos M. Gutierrez is the United States Secretary of Commerce.