The Ripon Forum
Volume 0, No. 0
Feb - March 2007 Issue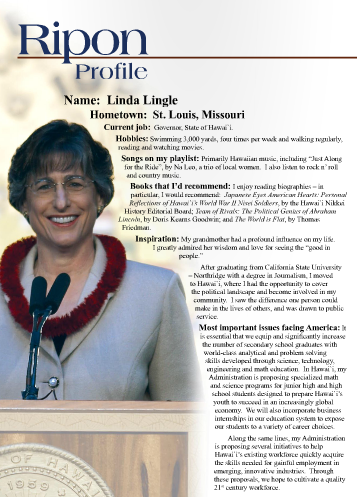 Name: Linda Lingle
Hometown: St. Louis, Missouri
Current job: Governor, State of Hawai`i
Hobbies: Swimming 3,000 yards, four times per week and walking regularly, reading and watching movies.
Songs on my playlist: Primarily Hawaiian  music, including "Just Along for the Ride", by Na Leo, a trio of local women. I also listen to rock n' roll and country music.
Books that I'd recommend: I enjoy reading biographies – in particular, I would recommend: Japanese Eyes American Hearts: Personal Reflections of Hawai`i's World War II Nisei Soldiers, by they Hawai`i Nikkei History Editorial Board; Team of Rivals: The Political Genius of Abraham Lincoln, by Doris Kearns Goodwin; and The World is Flat, by Thomas Friedman.
Inspiration: My grandmother has a profound influence on my life. I greatly admired her wisdom and love for seeing the "good in people."
After graduating from California State University – Northrige with a degree in Journalism, I moved to Hawai`i, where I had the opportunity to cover the political landscape and become involved in my community. i saw the difference one person could make in the lives of others, and was drawn to public service.
Most important issues facing America: It is essential that we equip and significantly increase the number of secondary school graduates with world-class analytical and problem solving skills developed through science, technology, engineering and math education. In Hawai`i, my Administration is proposing specialized math and science programs for junior high and high school students designed to prepare Hawai`i's youth to succeed in an increasingly global economy. We will also incorporate business internships in our education system to expose our student to a variety of career choices.
Along the same lines, my Administration is proposing several initiatives to help Hawai`i's existing workforce quickly acquire the skills needed for gainful employment in emerging, innovative industries. Through these proposals, we hop to cultivate a quality 21st century workforce.