The Ripon Forum
Volume 50, No. 5
November 2016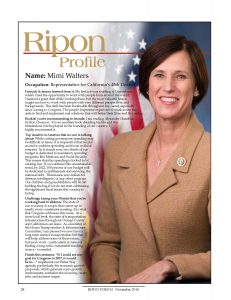 Name: Mimi Walters
Occupation: Representative for California's 45th District
First job & lesson learned from it: My first job was working at Disneyland, where I had the opportunity to work with people from around the world.  I learned a great deal while working there, but the most valuable lesson taught me how to work with people with very different perspectives and backgrounds. This skill has been invaluable throughout my career, especially since coming to Congress. The people I represent expect me to work across the aisle to find and implement real solutions that will better their lives and this nation.
Book(s) you're recommending to friends: I am reading Alexander Hamilton by Ron Chernow. It is an excellent book detailing his life and the tremendous role he played in the founding of our country. I highly recommend it.
Top issue(s) in America that no one is talking about: While cutting government spending may be difficult at times, it is imperative that we put an end to reckless spending and focus on fiscal restraint. As it stands now, two-thirds of our budget is dedicated to mandatory spending programs like Medicare and Social Security.  This means that this spending is locked in by existing law. If we continue this unsustainable trend, by 2022, 100 percent of our budget will be dedicated to entitlements and servicing the national debt. That means zero dollars for defense, intelligence, or any other program.  Our children and grandchildren will be left holding the bag if we do not start addressing the significant fiscal issues this country is facing.
Challenge facing your District that you're working hard to address: The state of our economy is a topic that comes up in nearly every constituent meeting. It is vital that Congress addresses this issue. At a more local level, the state of transportation infrastructure throughout Orange County and California is an issue. As a member of the House Transportation & Infrastructure Committee, I am pleased we now have a long-term surface transportation bill that will help address some of these issues, but more work – particularly in terms of finding a long-term, sustainable funding source – is needed.
Finish this sentence: "If I could set one goal for Congress in 2017, it would be to…" Implement our Better Way agenda, particularly the economic growth proposals, which generate a pro-growth environment, revitalize the economy, create jobs, and increase wages.